A lot has happened in one of our northernmost locations. Our team moved this year and has secured a location that is special in every way, right in the middle of the beautiful Hanseviertel district. The smooth transition process is mainly thanks to one person, our Hamburg Feel Good Manager Jesse Demel. What exactly he does and why he likes working in Hamburg, he revealed to us in an interview.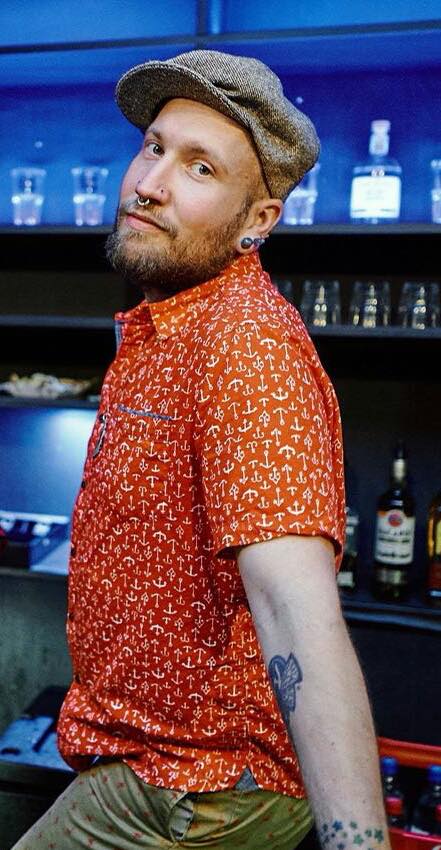 Hi Jesse! Thank you for making yourself available for this short interview! First of all, tell us in general: Who are you and what do you do at itemis?
Thank you, I am happy to do that! I'm originally from Olympia, Washington, USA, and have been living in Germany since December 2016. I am a very hands-on person and am responsible for all the crafts, gardening, and so on at our house. In my twenties, I worked a lot in the restaurant industry. I've also been a wellness and relaxation masseur for 10 year, and in the future as soon as the situation allows. I would like to offer chair massages for the Hamburg team again.
Here at itemis Hamburg, I bring my energy and creativity to support the team. At the moment, there is still a lot of groundwork to do here because of the move, such as setting up our office space. This way we can create an office space and work environment that is fun, creative and helps our team do excellent work. My official job title is Feel Good Manager and Team Assistant. Unofficially, I've been something of a Feel Good Fairy now since 2017 ;)
Feel Good Manager or Fairy ;) that sounds exciting! What does that mean exactly?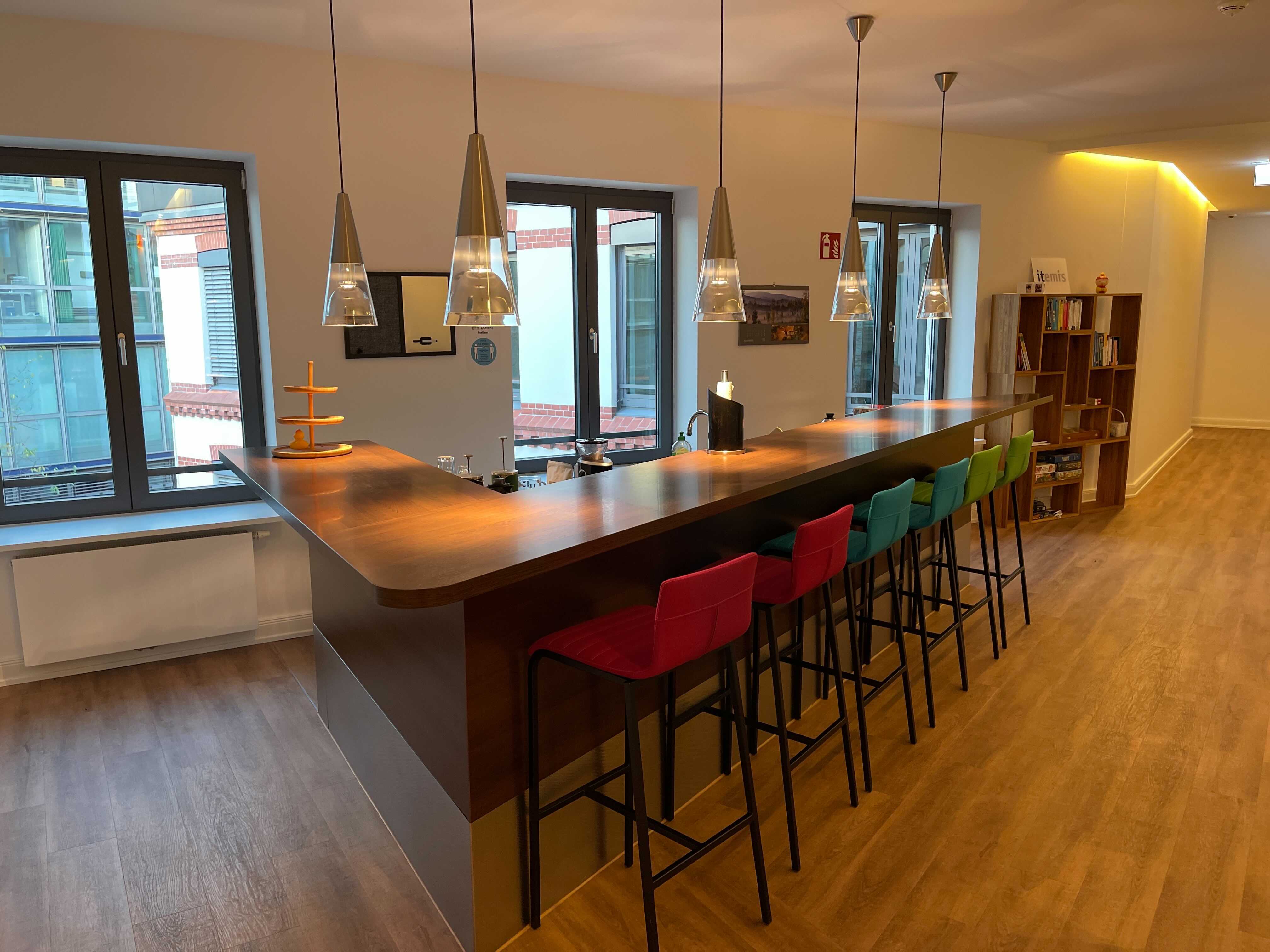 I would see it as a position created to reduce tensions in the workspace. This can take many forms, such as taking care of all the little details in the office, or encouraging activities that reduce stress. Meaning I clean up, take care of drinks and fresh fruit, and try to take as much organizational stuff off my colleagues' hands as possible.
I take care of deliveries and the very mundane needs that always come up in the office. It's really about looking very closely at what's needed and paying attention to details to always find new ways or even products that make our work days more pleasant and easier. These can be seemingly small things like ordering a beverage case rack or papier recycling container, but it's the big picture that matters in the end with my work. It's fun to be part of this growing team.
What is your everyday life like at itemis? How do you organize your working day?
It varies from day to day, depending on what the day or week brings. Usually the first thing I do is quickly check the supplies and overall office space to see if anything needs to be ordered, organized or cleaned. Right now, we are still designing our newly occupied office space and developing our own Hamburg style. So my day usually includes researching and contacting companies we want to work with in the process.

How did you actually come to itemis? And why did you choose us an employer?
In many ways, itemis found me. Community is something very important to me. As soon as I arrived in Hamburg, I sought out the community and people I like to have in my life. So I already knew some of the staff at itemis Hamburg, and they knew me, my skills and the energy I always try to share with people. And apparently it was a perfect fit. :)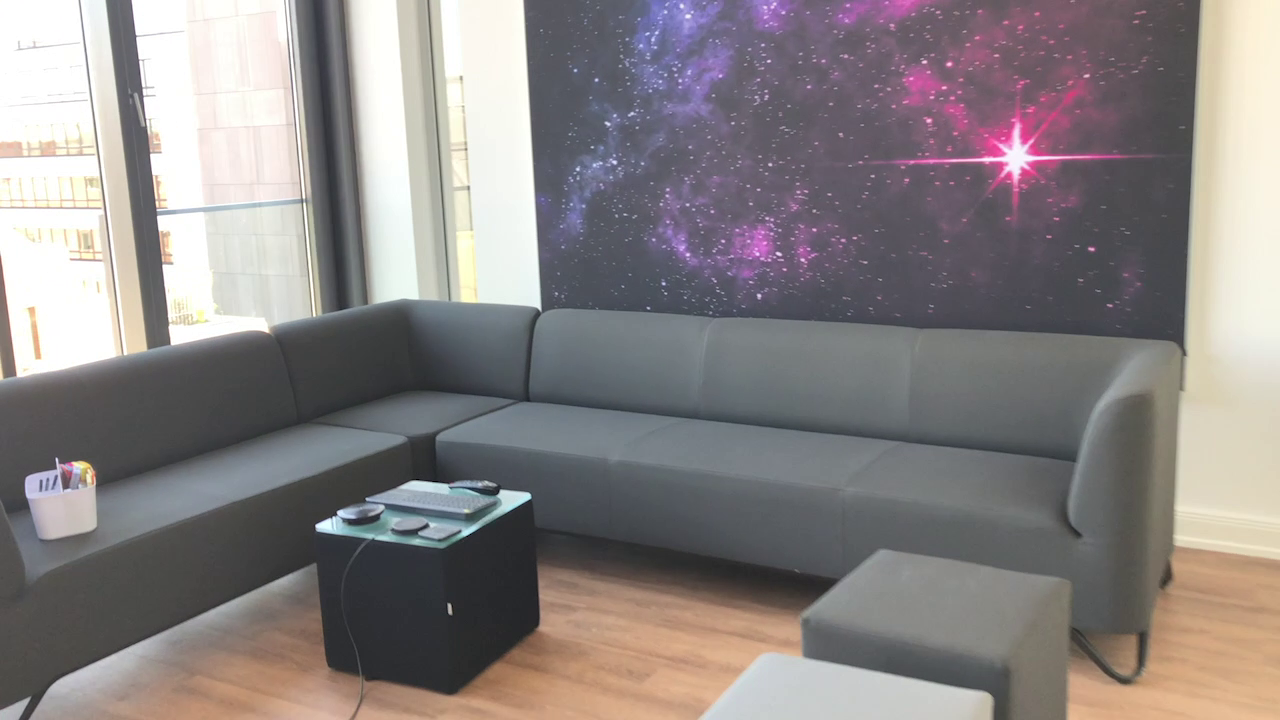 itemis is in many ways a big family of caring people. Here in Hamburg we believe that community is the most important part of a happy life.
In the past, there have been several opportunities to participate in events, both internal and Hamburg community events. These events were also designed and inspired by the people working here. so your individual ideas and wishes are always taken into consideration.
Also now in Corona time we regularly meet online and play games together. Crazy times that will hopefully soon be a thing of the past, even though we have learned that remote game nights can also be a lot of fun.
For all those who would like to continue working in the office in the future, our new premises are waiting for us. I'm working every day to make their return as comfortable as possible.
You work at our location in Hamburg. Quite apart from the fact that the location in the centrally located Hanseviertel is of course unbeatable: what makes this location special?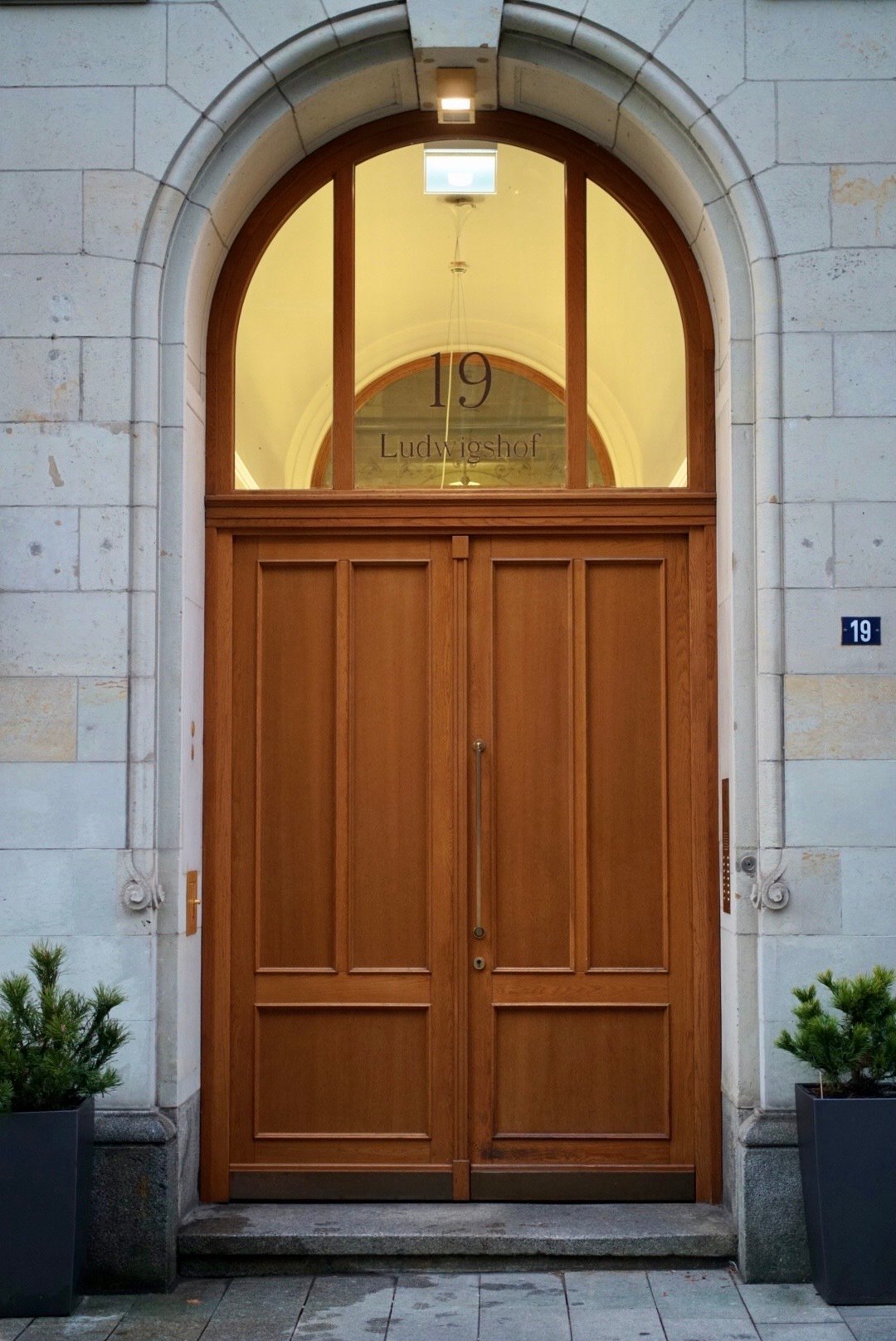 The location is special, that's definitely true. We are really happy to be working in such a place, right in the heart of Hamburg. We are located in the centrally located Hanseviertel in a beautiful modernized, century old building. Our office space extends over the entire top two floors. Easily accessible by bike or with our free HVV-Profi-Karte.
That alone makes the location so special, but at least as important as the location if not more, are the people who work here. Our teams really are wonderful.
Each team room is designed for constructive collaboration and individual focus. We've limited the team rooms to a maximum of six workstations. In addition, each team room has an extra room for brainstorming, problem solving and telecommunications. These "meeting rooms" are equipped with all the bells and whistles to encourage creativity in these areas.
Everyone works hard and is absolutely passionate about what they do, every project has a vision. We try to create a workplace and environment here where we all enjoy working, feel comfortable and everyone can give their best day in and day out.
You say you are like a big family. Do you also spend your breaks or free time together?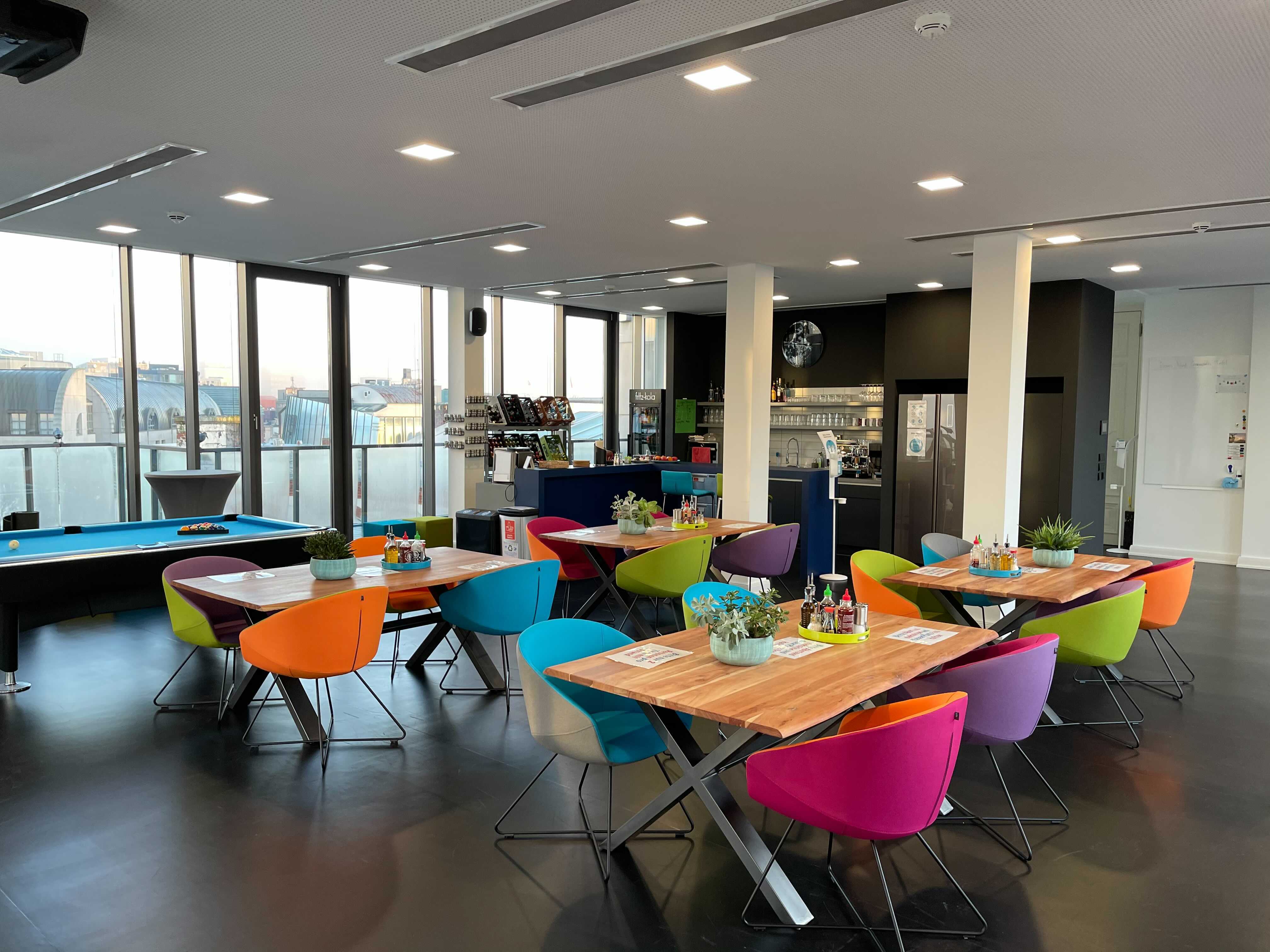 When we need a break from work, we enjoy our free time right here in our office. Our 100+ square meter Open space with a kitchen, is just the place for it. With a fully equipped kitchen, we can prepare our own meals or simply heat them up and enjoy them right on the spot.
Afterwards, we play a game of billiards or table soccer while enjoying a delicious espresso made on our very professional and super fancy espresso machine. We also often enjoy the fresh air and city views from our large rooftop terrace.
Community is very important to you. What else can new employees expect at your place?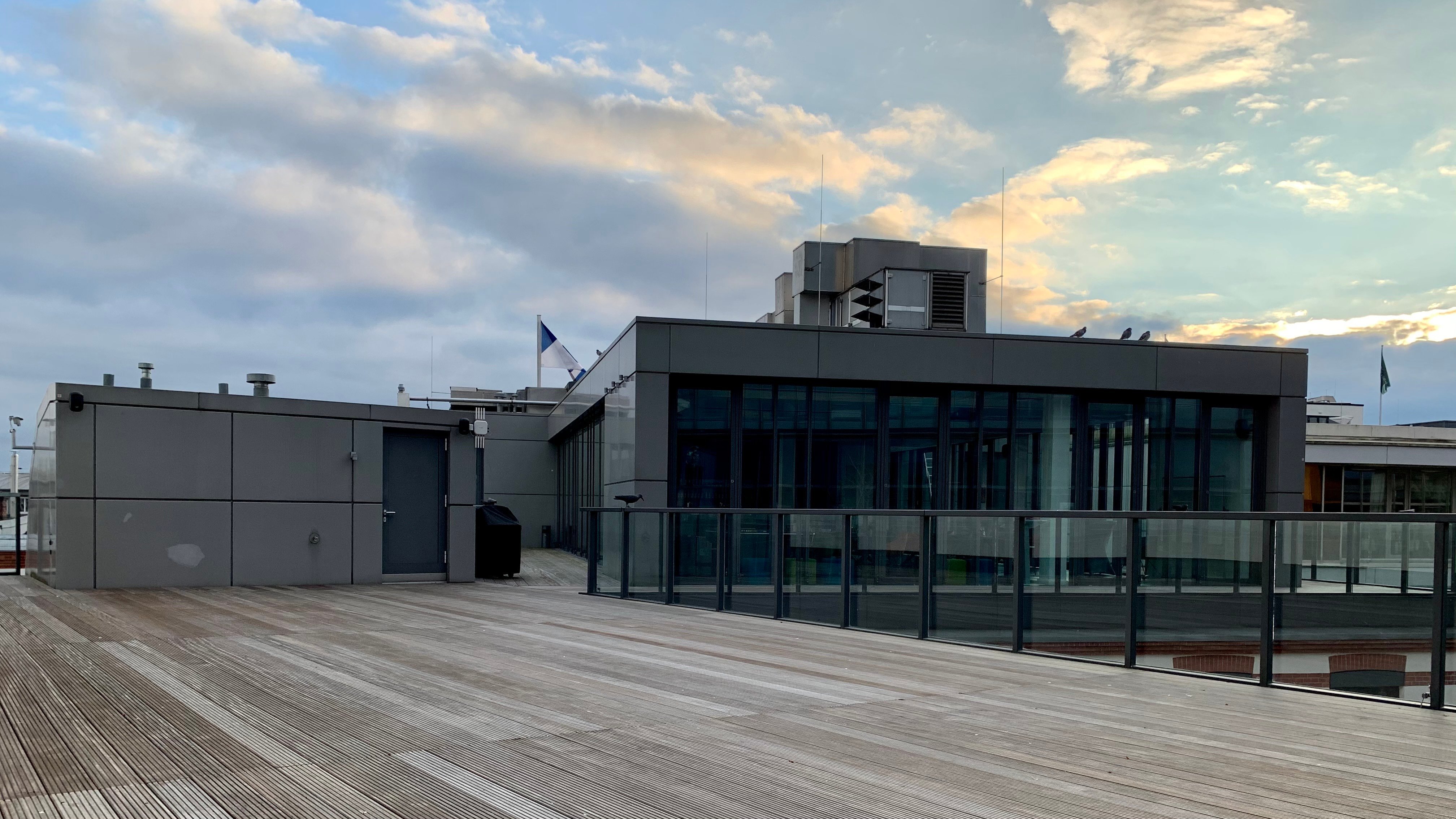 This focus on community is also evident in our daily work. Team members and leadership care about your opinions and actively participate to create the most engaging work environment possible. The goal is to have the best work environment to support the way you work.
Personal empowerment and responsibility are encouraged to give everyone a sense of ownership and pride in their work. We believe that a well coordinated team performs best for our clients.
There is also a weekly opportunity to deepen one's knowledge with our dynamic 4+1 concept. 4+1 means that 8 hours a week are dedicated to projects that individuals and teams want to work on. These projects can be related to the work done in a project for a client, but the main goal is to expand knowledge and creativity. I couldn't think of a more enjoyable place to work so far.
Thank you Jesse!
By the way, the team in Hamburg has big plans and still wants to grow. Maybe you'll fit in just as well as Jesse?